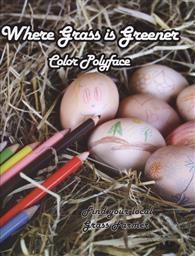 PREVIEW
Where Grass is Greener Color Polyface: Find Your Local Grass Farmer (Book/ Paperback)
by Rachel Salatin
Product Overview
Coloring book includes 28 line drawings with written description on perforated pages and 1 activity pager. Recommended ages 5-10

Note from Joel:

Rachel Salatin's new COLORING POLYFACE coloring book combines grass-farm accuracy with captivating images guaranteed to stimulate countless adult-child conversations. Each picture, captioned for info-density, brings Polyface models and procedures into clear focus. I've been watching Rachel's idea from conception to printing with great admiration and excitement.

Finally, we have a unique child-friendly medium to convey the great grass farming and ecology principles practiced every day at Polyface. Whether you've ever personally visited the farm or not, this wonderful collection of images brings everyday life on a grass farm into vivid detail. Truly unique in the sustainable agriculture genre, I think this effort can facilitate a whole new understanding in children about the grand and great concepts utilized in ecological farming.

Too many children's farming books are stereotypical, with silos, red barns, and grain-fed cattle. Because Rachel grew up on the farm, her intimate knowledge of this different farm and its themes comes shining through. For me, the gold in this book lies in the adult-child interaction that will inevitably follow the pictures and captions. Without being tedious, this fun coloring book conveys key principles that make us one of the most unique farms in the world. Everyone with a little person in their life should get one to start meaningful conversations early, and generate a new generation of caring, tuned-in, with-it earth and food stewards.
About the Author(s)
Buy Now
Our Price: $15.00
You Save:
+ Free Shipping w/ $45 min. purchase
LovingTruthBooks.com is owned by Zaev Holdings LLC

Product Details
Format: Book (Paperback)
Publisher: Polyface, Inc.
Date Published: Jun 01, 2013
Language: English
SKU: LT-3576
Dimensions: x x ( )