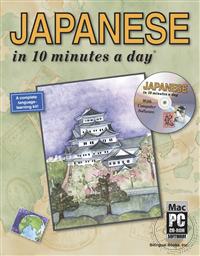 PREVIEW
Japanese in 10 Minutes a Day with CD-ROM (Book/ Paperback)
by Kristine K. Kershul
Product Overview
JAPANESE in 10 minutes a day Book

- 132-page illustrated workbook
- Full color throughout
- Organized in 25 easy steps, by essential categories
- 150 Sticky Labels for home and office
- Ready-made Flash Cards
- Cut-out Menu Guide
- Pronunciation Guide
- Over 300 Free Words
- Glossary of over 2,000 new words, definitions and pronunciation

JAPANESE in 10 minutes a day CD-ROM

- Included with the 10 minutes a day, Book
- Special language learning software features interactive Sticky
- Labels, Flash Cards, Colors and Numbers
- See and hear the words as you play with them on your computer screen
- PC and Mac friendly

Traveling to Japan? Then learning the language is at the top of your list and JAPANESE in 10 minutes a day with CD-ROM is the best way to prepare for your trip! This complete program combines the ever-popular JAPANESE in 10 minutes a day Book with a new interactive CD-ROM - it's the perfect blend of education and entertainment. Computer activities such as interactive Sticky Labels, Flash Cards and games add a playful twist to learning the language. With your new skills, you'll be able to shop the Ginza, see the sights and make reservations - all in Japanese! Now you're ready for the trip of a lifetime! Perfect for students, international executives and inspired travelers wishing to participate in this rich and ancient culture.
About the Author(s)
Buy Now
Our Price: $26.95
You Save:
+ Free Shipping w/ $45 min. purchase
Product is not currently available. Please check again soon.

Product Details
Category: Foreign
Format: Book (Paperback)
Publisher: Bilingual Books
Date Published: May 11, 2012
ISBN: 9781931873079
SKU: LT-3495
Dimensions: 11.00 x 8.50 x 0.50 (in)