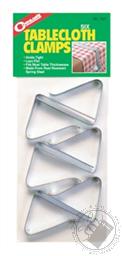 PREVIEW
Coghlan's Tablecloth Clamps Set of 6 (Kitchen/ Utensils)
by Coghlan's Ltd
Product Overview
Six rust resistant spring steel clamps that hold your tablecloth tight to the table. They lay flat for a smooth and snag-free edge. Fits most table thicknesses.
About the Author(s)
Buy Now
Our Price: $3.99
You Save:
+ Free Shipping w/ $45 min. purchase
Product is not currently available. Please check again soon.

Product Details
Category: Home, Travel, & Outdoors
Format: Kitchen (Utensils)
Publisher: Coghlan's
Date Published: Jun 01, 2009
ISBN: 056389005273
SKU: LT-2960
Dimensions: 9.00 x 4.25 x 0.50 (in)
Weight: 2.80 oz