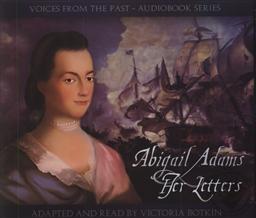 PREVIEW
Voices From the Past: Abigail Adams, Her Letters Adapted and Read by Victoria Botkin (3 Audio CD Set) (CD/ Audio)
by Abigail Adams, Victoria Botkin
Product Overview
The letters of Abigail Adams bear faithful and moving witness to one of the greatest epochs of world history: the American War for Independence. They also attest to the remarkable life of a wise and witty New England woman who was her husband's chief adviser and war correspondent, who raised and educated four children, managed a farm on a war-time budget, and served her country as its ambassadress and First Lady. This spell-binding narrative takes the listener from the bustling hub of Boston, to Penn's Hill, where Abigail stood with her son and watched the slaughter of her people and Charleston going up in flames, to the glittering courts of Europe, where she came face to face with the perpetrator of these crimes, King George III himself.

Selected and edited by Anna Sofia Botkin, music by Anna Sofia Botkin, sound design by Lucas Botkin.

America has a remarkable, but largely unknown, legacy of strong, intelligent, Christian womanhood. In "Voices from the Past," Victoria Botkin will take you back to original source documents, enhanced by sound effects and period music, breathing life into the very words of real heroines of American history.
About the Author(s)
Abigail Adams, Victoria Botkin
Buy Now
List Price: $14.00
Our Price: $13.59
You Save: $0.41(3%)
+ Free Shipping w/ $45 min. purchase
Product is not currently available. Please check again soon.

Product Details
Category: History
Format: CD (Audio)
Publisher: Western Conservatory of the Arts and Sciences
Date Published: Dec 01, 2010
Language: English
ISBN: 9781935877028
SKU: LT-2659
Dimensions: 5.75 x 5.00 x 1.00 (in)
Weight: 5.90 oz