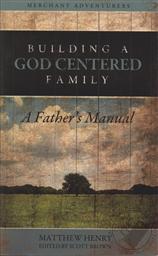 PREVIEW
Building A God Centered Family: A Father's Manual (Book/ Paperback)
by Matthew Henry, Scott Brown
Product Overview
Matthew Henry is known worldwide in our time as the author of his famous commentary on the Scriptures. But far less known in our day is the fact that Henry was an emblem of faithful fatherhood during his lifetime. Henry took his duties as a father seriously- and it showed. One observer noted that the Henry household was like unto the "gates of heaven" where he and his wife governed all family life by the Word of God.

As an English non-conformist pastor, Henry carried his passion for family discipleship into the pulpit. On April 16, 1704, he preached an abundantly practical sermon entitled, "A Church in the House, A Sermon Concerning Family-Religion," as an encouragement to fathers to develop the spiritual life of their families in their homes. Henry exhorted that "every house should be a little church." His point was not that the home should replace the church, but that the home should become a fountain of blessing for both the local church and the community at large.
About the Author(s)
Matthew Henry, Scott Brown
Buy Now
Our Price: $8.00
You Save:
+ Free Shipping w/ $45 min. purchase
Product is not currently available. Please check again soon.

Product Details
Category: Family & Parenting
Format: Book (Paperback)
Publisher: Merchant Adventurers
Date Published: Dec 01, 2011
Language: English
ISBN: 9780982056776
SKU: LT-2637
Dimensions: x x (in)