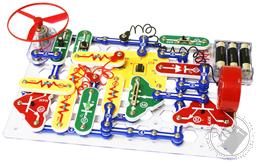 PREVIEW
Snap Circuits XP: Build Your Own Micro Computer (Electronic Experiment Kit) Ages 10 and Up (Model SCXP-50) (Experiment/ Electronic)
by Elenco Electronics
Product Overview
The ultimate Snap Circuits eXPerience!

A great introduction to micro-controllers and how they are used in the world around us. It can be as easy as snapping circuits togethrer and downloading our programs, or you can write your own programs using Basic or flowcharts. Includes over 100 projects and over 50 parts.
About the Author(s)
Elenco was founded more than 30 years ago by 2 engineers. The core of Elenco is still their strong engineering and design skills. Their test equipment has been proven to be reliable as well as affordable. With Elenco, you learn electronics by doing electronics.
Buy Now
Our Price: $99.95
You Save:
+ Free Shipping w/ $45 min. purchase
Product is not currently available. Please check again soon.

Product Details
Category: Science Kits
Format: Experiment (Electronic)
Publisher: Elenco Electronics
Date Published: Jul 01, 2011
Language: English
ISBN: 756619007588
SKU: LT-2571
Dimensions: 15.50 x 12.00 x 3.50 (in)
Weight: 38.00 oz