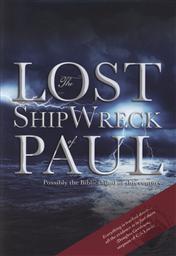 PREVIEW
The Lost Shipwreck of Paul: Possibly the Biblical Find of this Century Documentary (DVD/ Documentary)
by Robert Cornuke
Product Overview
This newest DVD includes compelling, detailed evidence regarding The Lost Shipwreck of Paul found in the book of ACTS.

One man's search for truth, led him from his own harrowing shipwreck ub Africa to an island in the Mediterranean Sea called Malta, and what he found may unlock a mystery that is almost two thousand years old.

Come with us now as we search for the lost shipwreck of Paul and see what could be actual anchors from the ship identified in the book of Acts in the Bible. In the late 60s and early 70s Maltese spear fishermen came upon hidden treasures on the sea floor. When Bob Cornuke, the famed Biblical explorer and former police detective, learned of their find, he put the many pieces of this puzzle together. What he discovered will leave you breathless!

"Everything is tracked down...all the evidence is in fact there." - Douglas Gresham, stepson of C.S. Lewis
About the Author(s)
Robert Cornuke has traveled extensively overseas, leading and participating in numerous expeditions to find verifiable historic sites and artifacts from biblical history. Bob is founder and president of the Bible Archaeology Search and Exploration (BASE) Institute located in Colorado Springs. He holds a PhD in Bible and Theology from Louisiana Baptist University and serves as special advisor for the National Council on Bible Curriculum in Public Schools. Bob lives in Colorado with his wife and children.
Buy Now
Our Price: $19.95
You Save:
+ Free Shipping w/ $45 min. purchase
Product is not currently available. Please check again soon.

Product Details
Category: Bibles & Bible Studies
Format: DVD (Documentary)
Publisher: Vapor Digital Media with BASE Institute
Date Published: Jun 01, 2011
Language: English
ISBN: 738435977955
SKU: LT-2532
Dimensions: x x (in)