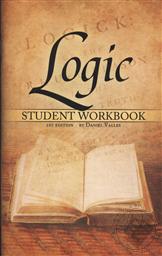 PREVIEW
Set: Student Workbook and Test and Quizzes Packet for Logic Seminar by Daniel Valles Based on Isaac Watt's Classic Textbook (Book/ Booklet)
by Daniel Valles
Product Overview
This is the companion student workbook for the Art of Logic Seminar presented by Daniel Valles.

The study of formal logic has fallen on hard times. Viewed as irrelevant or worse, most universities and seminaries no longer offer courses in proper constructs of argumentation and the result for the Christian Church has been disastrous. Many Christians have a set of beliefs not grounded in God's Word, but based upon their feelings and intuitions.

Logic is a tool that guides the student into clear ways of thinking or, to put it another way, "it is the science of good and necessary inference."
About the Author(s)
Buy Now
Our Price: $12.00
You Save:
+ Free Shipping w/ $45 min. purchase
Product is not currently available. Please check again soon.

Product Details
Category: Logic & Debate
Format: Book (Booklet)
Publisher: Art of Logic
Date Published: Jan 01, 2010
Language: English
ISBN: 9780984468324
SKU: LT-2520
Dimensions: 6.00 x 9.00 x 0.50 (in)
Weight: 7.30 oz