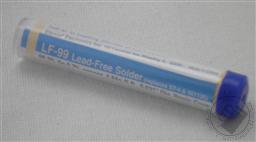 PREVIEW
Lead-Free Solder (5 Foot Roll) (Soldering/ Soldering)
by Elenco Electronics
Product Overview
99.3 % tin, 0.7% copper, 4.84 grams Rosin core, 0.031" dia. Model LF-99 from Elenco Electronics.
About the Author(s)
Elenco was founded more than 30 years ago by 2 engineers. The core of Elenco is still their strong engineering and design skills. Their test equipment has been proven to be reliable as well as affordable. With Elenco, you learn electronics by doing electronics.
Buy Now
Our Price: $2.49
You Save:
+ Free Shipping w/ $45 min. purchase
Product is not currently available. Please check again soon.

Product Details
Category: Science Kits
Format: Soldering (Soldering)
Publisher: Elenco Electronics
Date Published: Dec 01, 2009
Language: English
SKU: LT-2234
Dimensions: 3.00 x 9.00 x 0.50 (in)
Weight: 0.50 oz