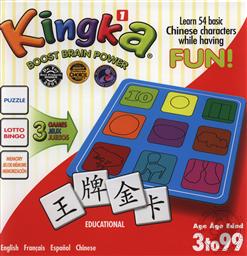 PREVIEW
Kingka 1 Play and Learn Chinese Matching and Memory Game (English, French, Spanish, Chinese) Simplified Characters (Game/ Board Game)
by Sholeen Lu-Hsiao
Product Overview
KINGKA guarantees players of all ages will learn 54 basic Chinese words after winning the master level with all 6 boards.

KINGKA, the most decorated language board game, is uniquely designed as a multi-purpose toy for all ages. Kids and adults alike find this ingenious twist on a classic game fun and challenging. The abstract lines and complex compositions are great brain teasers for players ages 3 to 99. Once young players have mastered identifying the basic shapes of circles, triangles and squares, they are ready for a KINGKA challenge.

This patented puzzle, Bingo and memory game is easy for parents and teachers who have zero Chinese experience to introduce the Chinese language and culture to their families or classrooms. Based on research, this versatile toy, if used solely as a puzzle, can stimulate visual discrimination, a critical cognitive development in early childhood.

Each KINGKA set can be played by 1-6 players. It is also expandable by adding other sets in the series to increase the challenge and fun, depending upon the size of the group or their fluency. You can mix KINGKA 1, KINGKA 2 and KINGKA 3 to accommodate a larger group or higher challenge for a small group.

A great game for after school programs, home schooling, and family time.

You can play the Bingo game in four different languages with every Kingka set.


Content subjects: Numbers (main), animals, body parts, food, nature and daily objects.

With these 54 basic characters, players can create numbers 1-99 and 400+ new words or phrases in Mandarin Chinese.

No Reading Required to Play
Contains no small parts
Help develop concentration, fine motor skills and eye-hand coordination for younger kids
1 pronunciation audio CD
1-6 players
Age:3-99
6 boards
108 Cards
Box Size: 9" x 9" x 2"
net weight 2.5 lb.

Kingka 1 can be added to Kingka 2 and Kingka 3 for more challenge and fun.
About the Author(s)
Kingka was created by Sholeen Lu-Hsiao, a language teacher and mom in northern New Jersey. She developed the Kingka game to be a very helpful educational tool for non-native-speakers to teach children Mandarin Chinese at an early age.
Buy Now
Our Price: $34.99
You Save:
+ Free Shipping w/ $45 min. purchase
Product is not currently available. Please check again soon.

Product Details
Category: Educational Toys & Games
Format: Game (Board Game)
Publisher: Little Confucius
Date Published: Dec 01, 2008
ISBN: 718122764013
SKU: LT-2180
Dimensions: 9.00 x 9.00 x 2.00 (in)
Weight: 36.60 oz