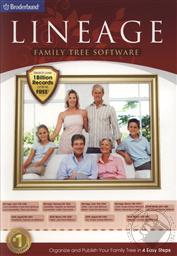 PREVIEW
Lineage Family Tree (Windows Vista / XP) (Software/ CD)
by Encore
Product Overview
Whether you are just starting your family history or are a seasoned genealogist, Lineage Family History Software makes it easy to preserve your family history and share your research with Friends and Family. Preserve your Family History in 4 easy steps: Build, Search, Design and Share. With an easy-to-use interface, genealogy is made simple for beginners and advanced enough for the seasoned genealogist. Advanced features include: Citation and Source Management Capabilities, Genealogy Scrapbooking Feature, Free access to over 1 billion online records and more. Create multiple types of charts such as Pedigrees, Descendant Charts, Ancestor Charts, Fan Charts and more.

- Create your family history with just 4 Easy Steps
- Build your family history with an easy to use interface. No other genealogy software makes entering your data faster or easier. Quickly enter the names you know and discover the ancestors you are researching.
- Search over 1 Billion Records Online for Free. Access the leading online resources.
- Design impressive Histories, Charts and Reports. Add photos, colors, fonts, boxes, shadows, and frame borders and create heirloom quality charts that will be admired and cherished by family members for years to come.
- Share your research with Family and Friends. Publish a Family Book that documents your family story. Automatically create a webpage, complete with photos, audio and video clips.
About the Author(s)
Buy Now
Our Price: $29.95
You Save:
+ Free Shipping w/ $45 min. purchase
Product is not currently available. Please check again soon.

Product Details
Category: Business & Economics
Format: Software (CD)
Publisher: Encore
Date Published: May 01, 2010
Language: English
ISBN: 705381211600
SKU: LT-2043
Dimensions: x x (in)