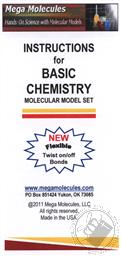 PREVIEW
Basic Chemistry Molecular Model Kit (110 Pieces) (Model/ Molecular)
by Mega Molecules LLC
Product Overview
Discover the 3-D structure of hundreds, even thousands, of organic compounds with this Basic Chemistry Molecular Model Set. It comes in a clear plastic case with 8 compartments to sort and store your pieces. An instructional tri-fold is included with the kit to help you get started.

This Molecular Model Kit includes:




12 black carbon atoms


26 white hydrogen atoms


6 red oxygen atoms


4 blue nitrogen atoms with 3 valance


2 yellow sulphur atoms


2 green phosphorus atoms


2 yellow flourine atoms


2 orange bromine atoms


2 green chlorine atoms


2 purple iodine atoms


38 gray links for single bonds


12 longer gray links for double bonds


The model atoms are easily assembled to form molecules by sliding the links over the poles of the models using a twisting motion. The links represent bonds between the atoms. Kit recommended for ages 12 and up.
About the Author(s)
Buy Now
Our Price: $22.99
You Save:
+ Free Shipping w/ $45 min. purchase
Product is not currently available. Please check again soon.

Product Details
Category: Science & Technology
Format: Model (Molecular)
Publisher: Mega Molecules LLC
Date Published: Jan 01, 2011
Language: English
SKU: LT-2020
Dimensions: 4.50 x 8.25 x 1.25 (in)
Weight: 7.80 oz