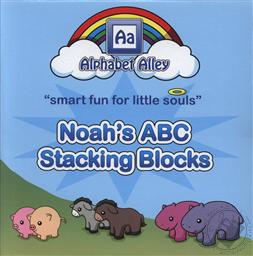 PREVIEW
Noah's ABC Stacking Blocks (Toddler and Preschool Activities) (Game/ Building)
by Alphabet Alley
Product Overview
Children love to play and build with these colorful stacking blocks!

These 10 blocks contain the entire alphabet with coordinating Biblical figures and references. The tops of the blocks illustrate numbers 1-9. Colorful graphics depicting the Noah story complete the set.

These stacking blocks introduce size and space relationships, encourage imaginative play and can be used by one or more children.

Great gift item and educational tool.
About the Author(s)
Alphabet Alley is a faith-based company that produces high quality toys for the early childhood market. They use all original graphics to illustrate solid values in a fun and entertaining way. Children choose Alphabet Alley products because they are fun! Parents, teachers and schools choose Alphabet Alley products for their educational, motivational and spiritual values.
Buy Now
Our Price: $19.99
You Save:
+ Free Shipping w/ $45 min. purchase
LovingTruthBooks.com is owned by Zaev Holdings LLC

Product Details
Category: Educational Toys & Games
Format: Game (Building)
Publisher: Alphabet Alley
Date Published: Apr 22, 2007
Language: English
ISBN: 185079000233
SKU: LT-1305
Dimensions: x x (in)