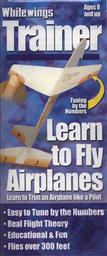 PREVIEW
Whitewings Trainer (Aircraft Model, Explore the Science of Flight) (Building/ Aircraft Model)
by AG WhiteWings
Product Overview
The Whitewings trainer is a great item for children or anyone who is new to model flight. All the control surfaces of the glider are numbered to make flight tuning as simple as possible. The instructions with this kit include detailed tuning instructions so you can get the best flight possible. The instructions also show how the control surfaces of your model relate to those on a full size aircraft. This kit includes precut materials for one glider, assembly and flight instructions, and a catapult launcher to achieve max altitude.
About the Author(s)
Created by Japan's foremost paper airplane authority, Dr. Ninomiya, WhiteWings gliders are popular the world over. WhiteWings delivers an educational and fun experience. Properly tuned WhiteWings Gliders have flown to levels rarely equaled by other paper gliders. Combining robust balsa fuselages and special paper for the airfoils, there is only one WhiteWings.
Buy Now
Our Price: $5.00
You Save:
+ Free Shipping w/ $45 min. purchase
Product is not currently available. Please check again soon.

Product Details
Category: Science Kits
Format: Building (Aircraft Model)
Publisher: AG Industries
Date Published: Jan 01, 2003
ISBN: 042594001018
SKU: LT-1199
Dimensions: 5.00 x 12.50 x 0.50 (in)
Weight: 1.10 oz